(Reading my journal entry titled A Brief History of My Life first will give you some important background on me before continuing).
Episode Resources
---
To say I'm going out on a limb in this episode is somewhat of an understatement. After one of the most bizarre and profound moments of my life, I felt compelled to capture the feeling of what happened to me yesterday while the many revelations are still fresh. That said, I doubt I will ever forget this lesson…
I am lying on the table of a very talented healer and I feel a presence walk into the room, like a rush of energy behind my head. At that very moment Karen stops what she is doing, looks at me and says, "Someone just entered the room."
"I know, I felt it." I reply, with a strange sense of knowing that something special is about to unfold.
"Who are you?" she asks, looking down towards the floor just below my right shoulder. Karen smiles with a look of mischievous curiosity.
"Ah, of course, that make sense. You are a master musician. Let's figure out who you are. Nick, help me out here. What's the first genre that comes to mind?"
"Jazz." I reply without a moment's hesitation. While this is all happening I am being muscle tested to determine the correct response. Karen has somehow effortlessly plugged into an invisible field of information. When an answer is no, my arm is immovable. When the answer is yes it flies up off the table like a feather, no matter how hard I try to resist.
"Were you a jazz musician?"
My arm gives her the answer. "You were. Ok, were you white or black?"
Again, it jolts up. "Black, interesting. Were you with Nick in a former life?"
"Yes. Ha. Did you play together?"
"Yes. Wow. Nick, you know who this is, tell me."
The words come out of my mouth as if by remote control. "It's Charlie Parker."
The name registers in my head only once it's hanging in the air between us. Charlie Parker, one of my all-time musical heroes. I should be surprised but I'm not.
Karen's voice doesn't skip a beat. "Charlie's 'being' is here to make sure you fulfill what you didn't complete in your last life. He says he is your guide and is always at your side."
I have never had an experience like this before. Even for the most open minded, this experience could be a real stretch, but somehow in that moment, it all just feels perfect. I know I am exactly where I need to be. Then someone or something else enters the room. "Did you have a young friend pass away recently?"
"Yes."
"Tell me her name."
"Jessica."
"She was young when she passed, but did what she came here to do and then left with a bang."
"Absolutely." I replied with a big grin on my face, my arm flying in the air. A huge wave of energy goes up and down my body like I am being cosmically scanned. Karen has goosebumps all over her body too.
"She says she loves you and is always with you and Melissa."
"We know."
At this moment, if this is not surreal enough, Karen lifts both hands off me and starts moving the fingers of both her hands gently up and down. "What's this instrument?"
"Piano." I respond to what seems an obvious answer, based on her movements.
"Why am I seeing a white pianist?"
Charlie confirms that he played with the white pianist who suddenly appeared to Karen. She jumps away from the table and sits down at her desk to start googling, looking for any white pianist who played with Charlie Parker. She finds one straight away. Then, with a slow head turn that you would expect to see in a psychological thriller, with a sense of awe in her eyes she slowly asks, "Nick, when were you born?"
"November 26, 1978." I know where she is going with this.
With an outburst that could be mistaken for Tourette's, Karen yells, "Get f*#!ked!" It seems that even for the insanely intuitive and talented Karen, this is all starting to get pretty wild.
She continues by reading out the name of a New York based pianist called Lennie Tristano who died on November 18, 1978. Based on timezones and locations of my birth and Lennie's death, that places us 7 days apart. Buddhists believe in reincarnation. I am not a 'Buddhist', rather I have tried to absorb as much of the wisdom delivered by various masters who have walked this earth. However, I find it hard to get past the ancient doctrine that "during the first 49 days after a human being breathes out his or her last breath and up to the time of reincarnation, his or her spirit or "soul" survives for up to 49 days. This survival is known as the "bardo," the "outcast," or the "body in the Yun," a period during the good and bad karma of the former life is being weighed and judged. Since his or her karma is not yet formed to determined where he or she will reincarnate, the bardo is extremely free. And since the bardo is extremely light, agile, and keen, its strength of awareness is seven times stronger than before death during this period, and possesses his bardo throughout… the length of this survival period for 7 days, 14 day, 21 days, 28 days, 35 days, 42 days and up to 49 days, at which time his or her karma for the next lifetime will have been determined and the bardo will undergo reincarnation accordingly."*
Lennie was a blind American jazz hall of fame pianist, composer, arranger, and teacher of jazz improvisation. Born March 19, 1919, he moved from Chicago to New York in 1946 where he formed many small bands and performed with some of the greats such as Dizzy Gillespie and — of course — Charlie Parker.
Until that moment, there'd never been a good explanation as to why an English boy with parents who rarely played music or showed any interest or talent in music, would stay up night after night with his red Sony cassette player listening to Charlie Parker under his duvet and dreaming of being able to improvise like The Bird himself. But I did. Charlie was always on my mind. He was my benchmark of greatness and I strived to master songs like Au Privave and Ornithology.
The list of similarities between Lennie and I, not to mention our likeness (especially our nose!) is quite simply astonishing…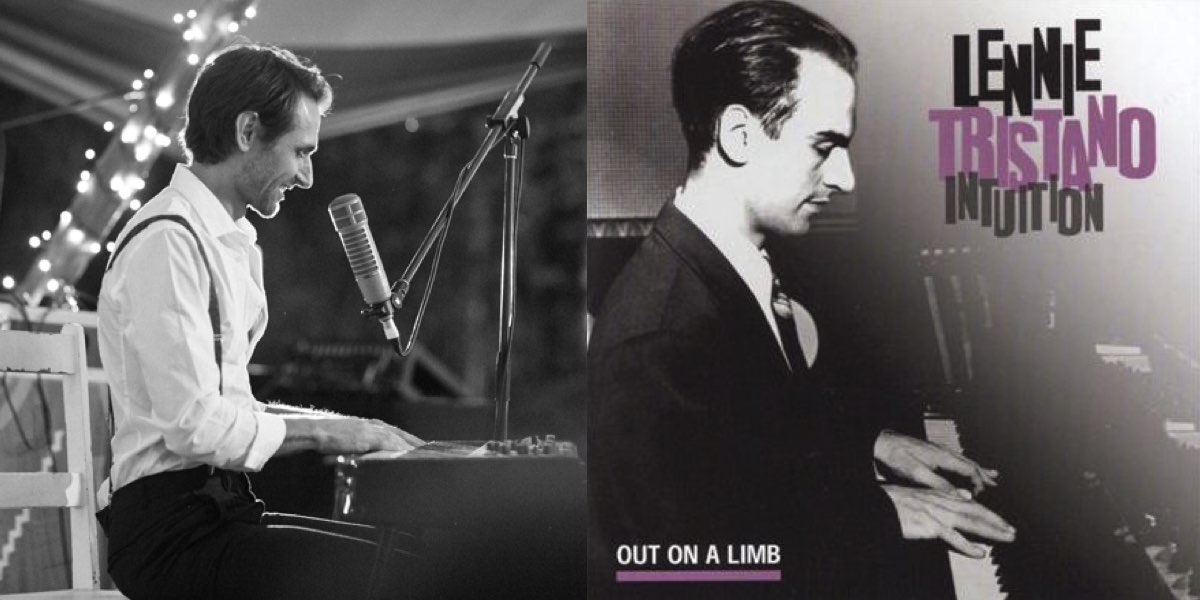 Anyone who knows me personally and professionally will smile when they read this following description by bassist Peter Ind who said Tristano "was always so gentle, so charming and so quietly spoken that his directness could be unnerving." Jazz great Chubby Jackson noted that he "had almost no tact and would not worry about being rude or making others feel incompetent." Both constraints I am keenly aware of and work on daily. *
Lennie was also quoted as saying; "Express all that is positive. Beauty is a positive thing." Well said, Lennie. That pretty much sums up my mantra on life.
He also had an interesting way of teaching his students. Rather than getting bogged down in the technical (something I never did as a self taught improviser), he had them sing the solo's they heard in their head, to get into the feeling of what they were about to play. I have only ever taught one student, a friend of mine called Allen who came to me during my time in Sneaky Sound System wanting to learn saxophone. Allen, who had never played an instrument before, let alone sung, was a bit taken a back when we started our first and subsequent lessons by singing improvisations to each other so he could feel what he wanted to play before he knew how to play it. I always felt that learning an instrument, especially as an adult, is a long process of delayed gratification, but at least I could give Allen the feeling of where he could be one day while his fingers and mind caught up in the meantime.
Lennie had a peculiar physical playing style, most likely because he was blind, which made his fingers stick out quite straight when he was playing, especially his pinky finger. I do the same due to being self taught and never knowing how to 'correctly' use my fingers.
Lennie and I both have scarring in the same place on our cheek.
Lennie played two main instruments, piano and tenor sax. My two main instruments are piano and tenor sax.
As a child he also played drums, guitar and trumpet. I played drums, guitar and trumpet as a child.
Lennie studied at the American Conservatory of Music. I studied (briefly because I couldn't stand all the theory) at the Sydney Conservatorium of Music.
Lennie was married twice. I have married twice.
Lennie had a son in his first marriage. I have a son from my first marriage.
Lennie was half Italian. My first wife was half Italian. Melissa, my gorgeous wife is also half Italian.
His first marriage ended in the same way my first marriage ended, but with a slight twist (that one is private).
Lennie had a son and two daughters to his second wife. Will have to let that one play out…
Despite being approached by labels, I have not signed with a label yet as I want to know what I have before I make any decisions that can affect the life of my music. Lennie was first signed by Atlantic Records which is still going strong today and reps some of my favourite artists like Coldplay, Matt Corby and Jill Scott. Who knows, perhaps ol' Lennie is mapping the course for me and my future releases.
(Turns out I signed with AntiFragile just two weeks ago… sounds almost like Atlantic, and is also based out of NYC).
Whether you believe this is all coincidence, or if I am indeed the reincarnate of Lennie Tristano, it really all comes down to your personal belief system. I do know though that where I am right now, with this information, is perfect. There are lessons I have already learned in just 24 hours from Lennie that I believe will influence how I move forward with my music, and may also impact how you see life too. As I have quickly dived into his life with a feverish obsession, it seems clear that Lennie never finished what he started. He was rigid in his manner and approach which stopped him from travelling the world and becoming a household name. Ind commented that "he stuck with his convictions and would not commercialize. His dedication, plus the lack of general appreciation by many jazz critics, led inevitably to his being sidelined."
Is that the life I want to live? Teetering on greatness but never allowing yourself to bust out? Seven days in 'bardo' is not a long time so clearly Lennie/I was clearly in a rush to get back and continue the journey. My parents always said I was a mystery child. Not planned and somehow conceived way out of cycle. Yet here I am. Having transitioned from a saxophonist to a vocalist and pianist. Perhaps I have something to say that needs to be heard?
I'm so tired, tired of waiting
But I'm ready ready to get it myself
So please, please, don't deny me
Oh, I've paid my dues
When I wrote this ('Status Quo') I felt like I was on my knees, hoping that everything I was doing would take me in the direction I have felt my whole life. In another release called 'Take Me Down' I write about how fear has over the years stopped me from unleashing my full creative potential (until now, take that!)…
Oh, the love is gone, nothing you can do to me will take me down
You will try, there's nothing wrong, nothing you can do to fail the love of sound
I was sleeping with the fear that I found
I see it in your eyes, you take me down
Oh and once upon a time I was your fool
Northing you can do to me will take me down
And I fall on back to you
There is a feeling I get when a song seemingly arrives out of nowhere and lands in my lap like some great gift… thanks Charlie ;). It's a feeling of being connected to something far greater and powerful than me (taken from 'Just Us')…
You and me, a love that's deeper than the sea
Even though I want to be with you, I'd let you go be free
Oh that's trust, in something bigger than us
Oh it's just us, carve the life we want to live
But we never can forget the greatest lesson is to give
Sing hello hello hello
I'm calling your name, it's just a game we're playin
Everybody is caught up in the fuss
Sing hello hello hello
I'm calling your name, it's just a game we're playin
The clock is ticking, what are you waiting for?
What greater gift can I give than to remind people of that?
I got you covered, Lennie…
I would love to hear from you, so please tag me @IAmNickBroadhurst on social media, and use the hashtag #TheNickBroadhurstShow, or leave me a comment below (I read every single one!). And if you could take a minute to leave me a 5 star review on iTunes I would be very grateful.