One of Melissa and my favourite places on earth to the holiday is the Greek Islands. The food is just out of this world. Fresh, colourful, full of plants and local. A gastronomic dream!
One dish we used to eat basically every day before we were fully plant-based is Moussaka. The combination of creamy bechamel, al-dente potato, rich tomato sauce full of local herbs… there are few things like it in the culinary world.
Here was a moussaka we enjoyed in 2017 on the island of Mylos…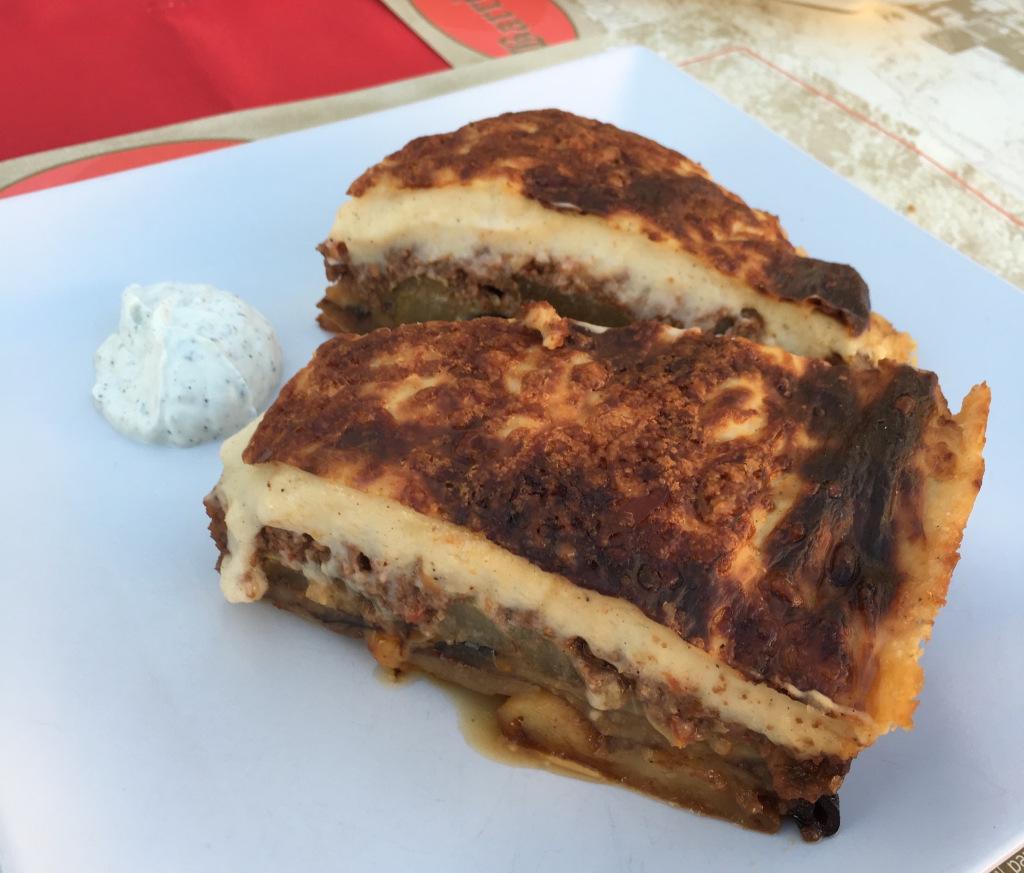 But, can it be done fully plant-based in a way that doesn't leave you thinking, "it's good, but not as good as the original".
It turns out, YES! It can. In fact, I believe this is even better. There is a peace of mind you get when you create a dish that not only tastes incredible but is gentle on our beloved mother nature.
What
3 large eggplants, sliced lengthways around 1cm thick, baked until tender and golden
2 large zucchinis, sliced and baked until tender
2 cups borlotti beans, soaked overnight, cooked until tender and drained
6-8 tomatoes (or two tins diced tomatoes) blended until almost smooth
6 medium Kipfler potatoes, boiled until tender and drained
1 bunch of chopped silverbeet
4 tablespoons of olive oil (we use The Wild Olive)
Handful of fresh basil for the sauce, plus some for decoration
Tablespoon of fresh sage, thyme and oregano (or 1 tsp dried), optional
1/2 cup of pitted kalamata olives
1/2 cup soaked cashews (at least 2 hours) rinsed
Juice of half a lemon
2 tbs onion powder
2 tbs garlic powder
Sea salt and pepper to taste
How
To make the sauce, tomatoes, olive oil, basil and herbs of choice in a saucepan and bring to boil then simmer for 30 min until deep red in colour.
To make the cheesy sauce, blend the potatoes, lemon juice, cashews, onion powder, garlic powder, salt and pepper to taste until very smooth, sticky and gooey.
In a large roasting tray (we love Neoflam) start to layer each element. First place a small amount of sauce on the bottom to stop the eggplant from sticking, then a layer of eggplant, sauce, beans, zucchini, eggplant, sauce, olives, silverbeet and so on until all ingredients are used.
Pour the cheesy potato sauce over the top, decorate with fresh basil, sprinkle on some olive oil and more onion powder.
Bake at 160°C until golden on top.
Let it cool for 30 min so it firms up, then serve and thank me later ;)
Share with me in the comments how you go. I would love your feedback. And please send this to a friend and share on social media. Make sure you tag me @iamnickbroadhurst and I will share your post.